Wow! 2010 was a fabulous year for Ron and Hermione! The fic and artwork were amazing, and you are all to be congratulated!! Also, we – your mods – would like to thank all of you, not only those of you who wrote and/or created artwork, but also those of you who have supported them, those who contributed nominated, and everyone who voted for his or her favorites. We couldn't have done this without everyone's contributions.
And for everyone who received a nomination, you're all winners, and if you haven't already taken it, please have this banner and pimp your awesomeness: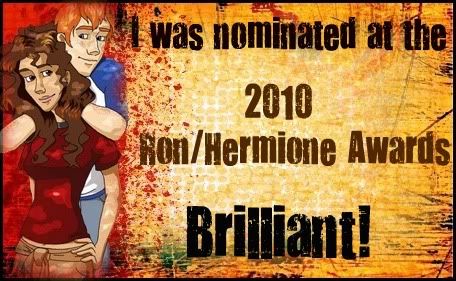 And now I get the privilege of announcing the winners of the 2010
rhr_awards
, honoring so many of you fantastic writers and artists and overall R/Hr fans:
(
Collapse
)
Thank you again to everyone who participated in every capacity. We ask that you please don't hot link your banners, and if you find any error in your banner, please let us know, and we'll get it fixed ASAP. Finally, since it's still up and running, we'll bookmark all of the nominated fics and art to our Delicious site:
http://delicious.com/RonHermioneAwards
(but please, give me a few days to get them linked).
And now, until next year … ♥